Trisha Songer of Macon, Ill. was born in 1977 with a congenital heart defect, so she has faced issues since birth. She said before receiving the pacemaker; her heart had a hole in it from the surgery cutting too far into the conduction system of her heart. "That meant the bottom chamber would not communicate with the top and would not beat on its own, and I got a pacemaker at six weeks of age."
She said over the years, and it progressed and worsened. "Later in life, the fact that the pacemaker was beating for me, the heart muscle weakened because it was not being used, so I developed cardio-myopathy."
Songer was not supposed to have children, but she did. She had four children, and her cardio-myopathy got much worse after her fourth. During this time she was widowed, "After Mike died, the worst happened. Broken heart syndrome is real, and people need to know that."
She developed right-sided heart failure, and "at that point, I got a pacemaker with a defibration, and it lasted for four years." She said during that time, she made many changes to her lifestyle. She changed her diet, mental health management, stress, and more, "My doctor very much promoted the heart and soul and body connection, big life changes at that point."
The doctor, she said, helped her tremendously. "My doctor is all about caring for every part of the body, including the mind. And, in doing that, the heart muscle strengthened a bit, and I was able to go to a regular pacemaker for a while," said Songer.
Then, five years ago, Songer started dealing with many issues. She had circulation issues, developed tachycardia in the right chamber of her heart, and two valves were leaking. She had six ablations, two shocks back to rhythm, and two heart valve repairs. She said they do still leak, but they are improved.
Two years ago, she went in for a routine pacemaker replacement surgery. She said everything went normally, but something was not right. "I was resting and felt like something was not right and got worse, and worse, and very weak." She was right to listen to her body. "I ended up being full of infection throughout my entire body, and was in St. John's Hospital for about three weeks, and then eight weeks of IV antibiotics at home with a visiting nurse to monitor."
They removed the old pacemaker, sewed a temporary one to her neck, and then debrided the site, putting in a new pacemaker. They then put in another pacemaker safely, which equaled another three and half weeks of hospital stay, and more IV antibiotics for eight weeks at home.
Songer does so much more than deal with heart issues. She is a mother, a grandmother, and a make-up artist, and she runs an in-home daycare. She also volunteers with the Macon County Animal Shelter weekly. In the past, she has run fundraisers for the community. When asked how you do everything despite her health, she said, "You have to; we go through the things we go through to help others." She added, "Just like anyone else, like any other job, we all have to make a living and function in life no matter how we feel in life; sometimes you just have to push."
She believes that sharing her story will help others. "I will do medical studies, raise awareness, whatever I have to do. If you are blessed enough to be alive, you should be spending your time helping people while you are here."
There are certain screenings offered for heart health, depending on age. Songer said you "need to advocate for your health, be proactive. The sooner things are detected, the better. There are certain screenings, and you absolutely have to do those." She added if you feel a medical professional is not listening to you, "Listen to your body. It will give you signs when something is not right, and if you go to a medical professional and express those concerns and they dismiss them? You need to go to another one."
Songer said her doctor is fantastic and "has always listened to me throughout my whole life." She said through pregnancy, she had to go to specialists, but many issues did not happen until after her fourth child's birth, and the death of her husband.
She said her dad was there for every surgery, and just a few years ago, her father lost his own health battle. He played Santa Claus for years for one of her fundraising programs in Cerro Gordo. Of her father, she said, "He had a heart of pure gold. He was my partner in crime, every surgery, he was there for me, and I was able to do that for him. I am very grateful for that."
As for sharing her incredibly personal story, she said, "I am happy to help. If it helps someone, that would be amazing, so someone doesn't have to go through all the crap I have gone through." She hopes to bring awareness to heart disease as it is the leading cause of death for Americans, especially women.
The CDC reports that heart disease killed 314,186 women in 2020. That equals, one in five female deaths resulting from Heart Disease.
---
Sheriff Bob Songer
Klickitat County Sheriff Bob Songer, pictured with wife Fran in center, received Washington State Constitutional Sheriff of the Year Award on Oct. 12. Republic, Washington Chief of Police Loren Culp also received Constitutional Law Enforcement Officer of the Decade.These awards were presented by Sheriff Richard Mack, President of the Constitutional Sheriff and Peace Officers Association in Mesa, Arizona.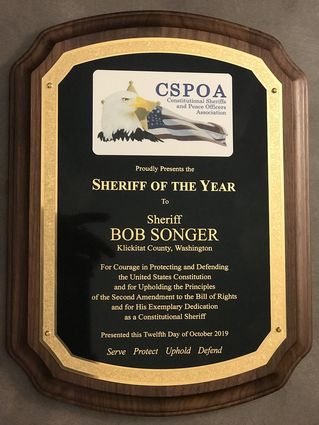 ---
Anna Songer
Children facing a debilitating illness often pick a trip to Disney World or meeting their celebrity idol when receiving a gift from Make-A-Wish.
A little Brookville girl's wish, though, was just to have a swing set for summer.
Anna Songer's health issues began the day she was born, when she was unresponsive and not breathing, her mother, Lindsay Songer, said. Anna spent seven days in the Neonatal Intensive Care Unit (NICU) at Children's Hospital of Pittsburgh.
At 9 months old, she was diagnosed with hydrocephalus, a condition in which fluid in the brain causes the head to enlarge, at times causing brain damage. Anna had a cerebral shunt placed for four years.
In summer of last year, Anna was also diagnosed with Chiari malformation, Songer said, a condition in which brain tissue extends into the spinal canal.
Her 4-year-old has had five brain surgeries total, Songer says.
The Songer family's troubles don't end there. Her husband, Dustin, was diagnosed with brain cancer three years ago, and is on hospice care.
The second week of April, Make-A-Wish of Greater Pennsylvania and West Virginia gave Anna her brand-new dream swingset, with a cake, balloons and backyard party at home.
"She hasn't had a lot of happy times as a kid," Songer said. "It was kind of a wish for Dustin, too, to see her get this and play on it."
The swingset is equipped with a tire swing, sandbox, monkey bar, slide, rock climbing and a couple other quirks.
Anna goes back to Children's Hospital in May, when she will have an MRI done to see if her last surgery was a success, Songer said. Right now, incredibly, she is showing no indication that it wasn't.
"We could never afford a swingset," Songer says. "She's doing so good now, and can look forward to a lot of summer days outside, just being a kid."
Songer says the family always thought Make-A-Wish was for children with certain conditions or circumstances, so when the organization insisited on helping Anna, they were very grateful.
"It's overwhelming to know they would do something so special for her," she said. "It has made Dustin and I so happy. Just to see your child happy is the icing on the cake."
The Songers not only want to spread awareness for Make-A-Wish and its generosity, but awareness of child illnesses that can go undetected. Through their many trips to the hospital, they met many other families and people going through similar things.
"Chiari is very rare, but it's becoming much more common," she said. "It's great to spread awareness for what Anna has had."
Despite two extremely challenging circumstances in the Songer household, there is no point in "being negative," she says.
"Your kids look to you to be their strength," Songer said. "We just kind of stay positive, and make the most of every day."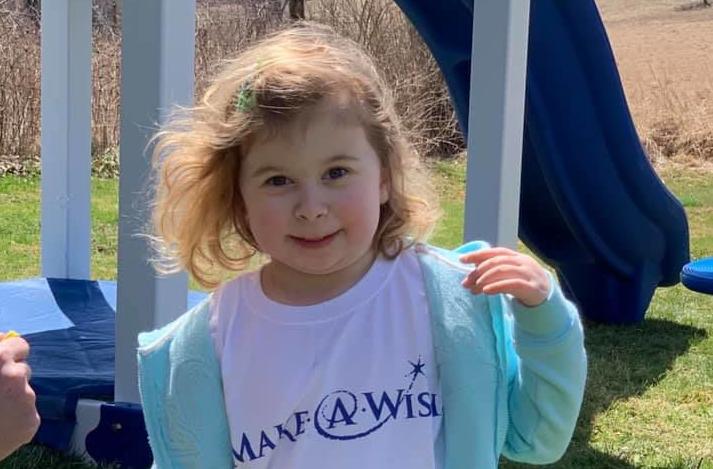 ---
John Michael Songer
John Michael Songer was shot and killed while standing on the patio of a popular bar in east Charlotte, NC. Saturday night.
This happened at Smokey Joe's Cafe on Monroe Road. Police say the shooting was unusual for the area
Detectives were able to identify the victim as 47-year-old John Michael Songer.
On Sunday, officers charged 35 year old Jamie Lord Harris with murder and possession of a firearm by convicted felon.
---
Distinguished Young Women
Ashlyn Taylor Songer is Contestant number 3 in the Distinguished Young Women Contest.
Ashlyn Taylor Songer, is a student at McMinn County High School, where she has served as a Biology tutor. Songer is a member of National Honor Society, student government, J-Teens, Mu Alpha Theta, and Outdoor Club. She was selected to be a student ambassador for McMinn Goes International. Songer was elected Treasurer for her freshman and sophomore classes. She is active in crossfit and has played Varsity tennis, where she received the Cherokee Award.
Songer was 1st place winner in Algebra II at Tennessee Math Teachers Association (TMTA) Math Competition, 1st place winner in nonfiction writing at Roane State Academic Festival, 2nd place winner for Algebra I at TMTA Math Competition, and 2nd place winner in Geometry Ciphering Contest.
She was nominated for Tennessee School Board Association Writing Scholarship, achieved requirements to graduate with distinction as a sophomore, and has been recognized each year in the academic excellence banquet.
Songer, a member of the Greenhouse Church, has served the community as fundraising chair for Athens Area Youth Council, as an assistant coach for a local middle school tennis team, by working in the nursery at church, and has volunteered for Relay for Life with National Honor Society. She has also participated in the Governor's Books from Birth Foundation program.
She plans to attend East Tennessee State University to become an orthopedic doctor.
Songer is the daughter of Angela and Steve Songer, and has one 26 year-old sister, Abby Songer.

Ashlyn Taylor Songer
---
Songer to retire as county's longest-serving police officer
A photo of Dan Songer and his dad, each wearing the uniform of his respective police department, sits on a shelf in Songer's office.
They look serious in that photo - despite the younger Songer's mustache and bug-eyed glasses popular in the 1980s - but the pride on both of their faces is palpable.
It's fitting that the photo has a place of prominence in Songer's office since his dad's work in law enforcement helped to spark Songer's own police career that has spanned 42 years, 20 as chief at Pitt-Bradford.
Songer's days in law enforcement now are drawing to a close. His last day of work will be Jan. 6, 2017, when he will retire with the dual distinctions of being the longest-serving police officer in McKean County and the longest-serving police chief in the University of Pittsburgh system.
His interest in law enforcement was first piqued while riding along his dad, Eugene Songer, a captain in the Foster Township Police Department. When Songer married his wife, Cindy, in 1972, he was working part time as a civilian dispatcher for the department and full time at Dresser Manufacturing Co.
Songer didn't want to spend his life working in the factory. When he got a chance to join his dad's department as a part-time officer, he took it, working with his dad for two years before taking a full-time position in neighboring Bradford Township.
Once he started policing full time, he knew he would do it for the rest of his career. Why? "I just wanted to help people," he said. "I liked the idea of being there, keeping an eye on my community."
He worked for Bradford Township until 1983, then moved to the Bradford City Police Department. A year later, in addition to working for the city, he started part time at Pitt-Bradford. In 1996, he made what he called "the big leap" by taking the chief's job at Pitt-Bradford when George Barron, his friend and mentor, retired.
At Pitt-Bradford, Songer realized the job was more complex, more than just policing. As chief he was responsible for the safety of the entire campus and lead campus-wide emergency drills to make sure everyone knew what to do in case of a fire, flood or manmade emergency. He was also part of a team that met weekly to discuss students of concern.
Songer didn't know it at the time, but his dad planted the seed that eventually grew into his successful transition to and love of campus policing.
"I watched my dad work with kids, helping them get on the right track, and I wanted to do that, too."
Songer had many opportunities on campus to follow his dad's example. He's worked closely with colleagues, mostly in the student affairs and counseling services offices, to make sure students on the wrong side of the law got the help they needed to move beyond their mistake.
Working on a small, close-knit campus also enabled him to connect with young people in ways he couldn't before. For example, three mornings a week, Songer used to play basketball with Rick Frederick, professor of history, Michael Stuckart, associate professor emeritus of anthropology, and the late Tom Ackerman, magisterial district judge. Students would often join them.
Songer remembered one student - though he couldn't conjure his name - whom he arrested for breaking a window in a residence hall while drunk and angry. Songer knew he had to arrest the student who was a criminal justice major.
"You have to be fair with kids, but you have to be firm."
That young man is now a lawyer in Michigan.
"He came out OK. If you can help one person with something like that, it's all worthwhile."
Songer has many good stories to remember. He also admits he's made mistakes. Despite them, he has no regrets.
"I would do this all again in a heartbeat."
The only thought that gives him pause is that he often put the job first, which sometimes took time away from his family. However, his wife and daughters don't remember it that way. When his girls had home Bradford High tennis matches, Songer would grab a portable police radio and be on "park patrol" - even though there was no such thing - so he could watch them play. During his shift, he'd stop home at 6 o'clock to have dinner with them, then stop by later in the evening to kiss his girls goodnight.
"Cindy and my girls always were my biggest supporters because they knew this was something I wanted to do."
So, after 42 years of putting on a police uniform, what is he going to do when he wakes up on Saturday, Jan. 7, and he doesn't have to?
He thinks he's going to sleep in, though it probably won't be past 8 o'clock. "That's as late as I can do it." He's also anticipates turning off his cell phone for the first time.
As his retirement starts to unfold, Songer plans on traveling more with his wife to visit their girls and their families - Melanie lives in Pittsburgh; Karen is in Charles Town, W.Va. He's considering spending winters in Myrtle Beach and would like to use the lifelong national parks pass he has.
He doesn't think he'll be bored, though he knows he'll miss the work and the people. Fortunately, he lives a stone's throw from campus, so getting together with his friends will be easy.
Songer soon will be packing up his office, which will include that photo of him and his dad. He cherishes the two years they worked for the same department.
"Working with him was great. He was a good cop."
He hopes people remember him that way as well. "Hopefully, people will think I was compassionate."
---
UPDATE:
Little progress made in Bledsoe County double slaying probe.
Authorities have named no suspects almost 12 weeks since the double slaying of a Pikeville, Tenn., couple who were found dead at their home in South Bledsoe County on July 5.
But now the cause of death is known as the investigation continues.
Autopsy results show that Robbin Juanita Martin, 49, and James Henry Songer, 41, were shot to death, according to the the Davidson County Medical Examiner's Office in Nashville.
Martin received multiple gunshot wounds, while Songer was shot once in the chest, officials said. The manner of their deaths was ruled homicide.
Twelfth Judicial District Attorney General Mike Taylor said there are a couple of people of interest, but they have not been named suspects yet.
Local authorities and Tennessee Bureau of Investigation agents have been interviewing people in Bledsoe, Sequatchie and Grundy counties, Taylor said Thursday. "They're continuing work on the case, and we're waiting on more laboratory reports."
TBI spokeswoman Susan Niland said she couldn't speak to specific details of the case while it is still open and active.
"We are providing information on the investigation to the [district attorney's] office as the case progresses," Niland said Thursday.
Songer and Martin were found after a motorist driving past their home on Brock Hollow Road spotted a man lying in the yard. That man turned out to be Songer; Martin was found dead inside the home.
The couple was last seen alive at a July Fourth celebration in Dunlap, Tenn., in neighboring Sequatchie County, according to authorities. Their bodies were found around 6 p.m. CDT the next day.
The couple's home is five or six miles from the Bledsoe-Sequatchie county line near the eastern edge of the Cumberland Plateau. The area has a few homes scattered across a patchwork of pastures and woods.
Niland said anyone with information about the case should call 1-800-TBI-FIND or 1-800-824-3463.
------
Local and state authorities are seeking information leading to a suspect or suspects in the slaying of a Bledsoe County, Tenn., couple sometime between Monday night and Tuesday evening.
Pikeville residents James Songer, 41, and Robbin Martin, 49, were found dead at their home at 2500 Brockhollow Road around 5:50 p.m. CDT Tuesday, according to 12th Judicial District Attorney Mike Taylor and the Tennessee Bureau of Investigation.
Songer's body was found outside the home in the yard and Martin's body was found inside, Taylor said.
A passerby is believed to have spotted Songer's body and alerted police.
TBI agents began probing the scene Tuesday night, Taylor said. Four TBI agents investigated at the home then, and agents and Bledsoe authorities continued interviewing people Wednesday.
The bodies of the man and woman were sent to Nashville for forensic autopsies, he said. Taylor declined to describe their injuries. Investigators on Wednesday hadn't recovered any weapons.
The couple was seen Monday night in nearby Dunlap during the town's July Fourth events at the downtown park, Taylor said. Investigators are trying to pin down what happened to Songer and Martin over the next 24 hours.
"We have not yet been able to trace their movements back to the mountain to get a time frame for the homicides," Taylor said.
"It's early on," he said. "The TBI told me they had a list of people they were trying to interview today. But as far as a person of interest or a suspect, there's not one at this time."
UPDATE:
of interest" connected to a double slaying in Bledsoe County, TN. as their probe enters its third week.
State and local authorities are trying to narrow the search for whoever killed 41-year-old James Henry Songer and 49-year-old Robbin Juanita Martin sometime between the end of a Fourth of July concert in nearby Dunlap and the evening of July 5, when a body was spotted by a person driving past the mobile home.
"I know they developed a couple of people of interest that they were trying to track down to interview," 12th Judicial District Attorney General Mike Taylor said Monday.
Authorities are awaiting preliminary autopsy results and a cause of death.
Among the questions surrounding the slayings are whether Martin and Songer were killed by an acquaintance.
"I think there's a strong possibility that the victims knew the assailant or assailants," Taylor said. Investigators do not believe robbery was the motive in the killings.
While their killer or killers remain at-large, Tennessee Bureau of Investigation agents continue to conduct interviews and collect information to piece together what happened to the couple. Martin's body was found inside the home and Songer's was found outside after the passerby reported seeing his body in the yard, authorities said.
The couple's mobile home is located on Brock Hollow Road in South Bledsoe County in an area sparsely populated with a few residences separated by large pastures or woods.
According to their obituaries, Martin left behind three children and a brother; Songer left behind two children and two sisters.
Taylor said investigators still want to hear from anyone with information about the case. To pass along a tip, call the Tennessee Bureau of Investigation at 800-TBI-FIND or 800-824-3463.
---
Joe and Gayle Songer 50th Anniversary
Joe and Gayle Songer are observing their 50th wedding anniversary June 12, 2016. They were married at Grace Baptist church in Evansville, Indiana by their brothers in law, Reverend Jerry A. Songer and Reverend David R. Dean.
She, the former Patricia Gayle Champion, graduated from Evansville College with a B.S. degree in nursing and retired as an office nurse with Dr. David Dersch. He earned a medical degree from IU Medical School and did his residency and fellowship at IU Medical Center, Indianapolis. In 2008 he retired from private practice as an Oncologist/Hematologist with Medical Consultants and currently serves as the Medical Director of IU Health Ball Hospice.
They are the parents of Melissa Songer (Chris), Michael, Meredith Snell (Matt), and Meghan Frey (Rob) and they have eight grandchildren.
Dr. and Mrs. Songer are active members of First Baptist Church of Muncie.
---
Jeremy Songer and Christa Zapfe August 2016 wedding
For seven years Christa Zapfe pastored Greensburg's Lighthouse Worship Center – an experience that left a lasting impression on her life.
"I had never been part of a rural community," Zapfe said. "I have to say there was such a depth of relationships and community. I was impacted by that."
Originally from Chicago and having attended college and seminary school in Florida, coming to rural Kansas was a new experience for Zapfe. Now she is about to take on a new experience – moving to Tennessee and getting married.
For the past three years she has helped pastor a church in Colby, Kansas. This past weekend, while making the trip from Colby to Oak Ridge, Tennessee where she will be living, Zapfe wanted to bring her fiancé, Jeremy Songer, to Greensburg to meet the people who played an important role in her life.
The church gave the couple a wedding shower.
"I really appreciated that," Zapfe said. "It was so thoughtful, so very kind of them."
Zapfe met Songer, a widower, on a Facebook page for Assembly of God preachers and a friendship grew into a romantic interest.
"I've wanted to be married and have a family but neither one of us was expecting this," she said.
Zapfe will live with a woman from Songer's congregation, LifeHouse Church prior to the August wedding.
People in the Greensburg church commented on how Zapfe is adventurous, a quality that will be beneficial when she becomes an instant mother to Songer's two kids – Josie, 5, and Joseph, 2.
Zapfe was serving Lighthouse, an Assembly of God church, at the time of the 2007 tornado.
"It was an incredible change," she said. "In a matter of minutes everything we knew had been completely destroyed. The reality of our lives was different, but God was the same. He was still the provider, still the savior."
Zapfe came to Greensburg not long after she graduated from Assembly of God Theological Seminary.
"I had been on staff at a church in Florida for several years but I knew I needed to move into a different role," she said.
Contacts within the Kansas Assembly of God told Zapfe about a church in Greensburg in need of a pastor.
"I honestly felt a draw," she said.
Zapfe feels God led her to the church in Greensburg.
"Absolutely, no doubt in my mind," she said.
During the reception Saturday afternoon, church members recalled Zapfe as someone who was not afraid to get her hands dirty. "I had mentioned in a sermon that if I'm not willing to clean toilets I have no business standing behind the pulpit," Zapfe said. "We as Christ followers need to be humble and need to put our hands to work."
Church member Nancy Davis described Zapfe as a "wonderful person. Just part of the way she's made, I guess."
Jeff Miller, the current pastor of Lighthouse said the people of the church loved her.
"She was able to bring the church through the tornado and the city through the tornado," Miller said. "She was a go-getter from the word go."
Zapfe said, "Greensburg has forever impacted my life."
---
Ben Graessle
Gov. Terry McAuliffe signed "Ben's Law," a bill that makes accessory after the fact to murder a felony, Monday.
The bill easily cleared both chambers of the Virginia General Assembly on the way to the governor's desk.
Before the new law, the crime was a misdemeanor punishable by up to a year in jail. Now, offenders face up to five years in prison.
"At least it's going to spare other loved ones of victims," said Debbie Songer, the mother of Ben Graessle, who was murdered in 2012. "Ben's life is worth more than a year in jail. Hopefully it will be a deterrent to those that want to assist in a murder."
-------------------------------
On December 23, 2012, Debbie Songer lost her son Ben Graessle to gang violence. He was shot and killed outside the former Common's apartment complex by Dallas Chaplin who is now in prison.
Songer hopes to help police fight further violence with a $10,000 donation.
"We were absolutely blown away," said Cpl. Philip Wonderley with the Harrisonburg Police Department.
Wonderley says Songer's donation to the C.H.A.R.G.E Gang Task Force was unexpected and very appreciated. The task force is a joint effort between HPD, the Rockingham County Sheriff's Office and James Madison University Police.
"There's some other things that we could use and that we want, but we didn't have the money [in the] budget for," said Wonderley. "The educational stuff, we need to revamp that, we haven't done it in 6, 7, 8 years."
The donation will also help pay for supplies officers use in the field and Wonderley says it was one of the first of its kind.
"This is the first since I've been the supervisor of the Gang Unit and since I've been here at the police department," Wonderley said. "I don't know if there's any donations been made to the gang unit in particular."


Ben Graessle, a 2011 Spotswood High School graduate, was gunned down in Harrisonburg three days before Christmas 2012
Ben Graessle was killed in Harrisonburg outside of the Commons Apartment Complex on Dec. 23, exactly two years ago today. A new lawsuit has been filed for wrongful death in the case of Graessle's murder.
Graessle's mom, Deborah Songer, is now going to court against the apartment complex and 11 other defendants. She is suing them for $10 million in damages, claiming her son's death could have been prevented if there was more security at The Commons. The lawsuit mentioned Harrisonburg Police Department responded to 21 reports of criminal violations between Aug. 23rd, 2012, and Dec. 22, 2012, before the shooting. Graessle was shot by Dallas Chaplin at party at the complex.
A court date hasn't been set yet, and the defendants have not responded to this lawsuit. Friends of the family say if they win the lawsuit, they will donate all of the money to charities and causes Graessle cared about. This case will be heard in Rockingham County Circuit Court. There is no date that has been set for it yet.
---------------
Dallas Chaplin, the 20-year-old Staunton resident accused of fatally shooting a Harrisonburg man last December, has pleaded guilty to first-degree murder and will spend the next 40 years behind bars. The plea came this morning, shortly before day three of his trial was to begin.

Apparently seeking to avoid the possibility of life in prison if convicted, Chaplin took the plea deal negotiated between prosecutors and his defense team.

The plea means the defendant will spend the bulk of his life behind bars and won't regain his freedom until he is at least 60. The deal also includes a 40-year suspended sentence.

Chaplin shot Ben Graessle, 19, three times outside the victim's apartment building in The Commons, a residential complex off of Port Republic Road. Graessle and a friend of Chaplin's had been fighting before the shooting. Prosecutors say Chaplin killed Graessle with three shots from a small-caliber handgun as the victim lay on the ground.

Following Chaplin's guilty plea, Graessle's mother, Debbie Songer, said she was pleased with the outcome but moving on is still difficult.

"There's not going to be closure for a long time," said Songer. "He was our only son."
------------
Sidekicks who come along in the aftermath of the most violent crime possible may face more time behind bars in the future.
As expected, Del. Ben Cline, R-Rockbridge, has filed legislation that increases the penalty against people who assist murder suspects following the deadly act. Del. Tony Wilt, R-Broadway, is the chief co-patron.
The bill would make accessory after the fact to murder a Class 6 felony, if the murder is punishable by death or life in prison.
A Class 6 felony could lead to a prison sentence of up to five years. Current law says accessory after the fact is a misdemeanor punishable by up to a year in jail.
"If you can drive a car or participate in disposing of a victim, that should be a felony act and should be taken as seriously as the planning of the crime in Virginia law," said Cline, a Harrisonburg attorney and former assistant in the Rockingham County Commonwealth's Attorney's Office. "My heart goes out to the families who have to endure these types of cases when Virginia law does not currently treat these issues with enough severity."
Accessory to murder, such as helping to plan it out, is already a felony.
Cline proposed the legislation, known as 'Ben's Bill', in response to the murder of Ben Graessle, 19, in Harrisonburg in December 2012.
The shooter, Dallas Chaplin, 20, of Staunton, was sentenced to 80 years in prison, with 40 years suspended. The getaway driver, Givi Dudunia, 20, also of Staunton, was sentenced to three years in jail, with one year suspended.
Dudunia faced only misdemeanor charges in the case, including accessory after the fact to first-degree murder. Graessle's friends and family were upset that a harsher sentence couldn't be handed down for his role in the slaying.
The bill has been referred to the House Courts of Justice Committee. A subcommittee that Cline sits on will hold a hearing on the measure in the next two or three weeks, he said.
Rockingham County Commonwealth's Attorney Marsha Garst, who supports the bill, and Graessle's family may participate in that hearing, Cline said.
"We'll make sure Ben's story is told," he said.
---
Airman Jacob G. Songer
Airman Jacob G. Songer graduated from basic military training at Joint Base San Antonio-Lackland, San Antonio, Texas.
The airman completed an intensive, eight-week program that included training in military discipline and studies, Air Force core values, physical fitness, and basic warfare principles and skills.
Airmen who complete basic training earn four credits toward an associate in applied science degree through the Community College of the Air Force.
Songer is the son of Jason Songer of South Charleston, WV. , Elba Samson of Logan and Lisa McDaniel of Nitro, and step-son of Leslie Songer of South Charleston, WV.
The airman is a 2014 graduate of South Charleston High School at Charleston, WV.

---
Fiery crash involving 5 vehicles closes I-90 near La Crosse, Minn.
The La Crosse County Medical Examiner's Office confirmed the identification of one man who died from the crash on I-90 near La Crosse Thursday morning as 29-year-old Jason Songer, of La Crescent.
Five other people were injured in the six-vehicle crash that happened at about 7:50 a.m. on I-90 near mile marker 2 near La Crosse Thursday.
Wisconsin State Patrol said its preliminary investigation on Thursday found the crash happened as traffic was traveling eastbound and was merging onto I-90 into the construction zone. The dump truck was not able to slow down in time and ended up rear-ending a vehicle, causing a chain reaction.
The dump truck struck a Ford Mustang driven by Songer that was stopped in traffic, the Wisconsin State Patrol stated in a news release Friday morning. The dump truck and Mustang then moved forward and struck other vehicles also stopped in traffic.
The State Patrol said the dump truck and Mustang then traveled into the grassy median where they both caught fire. The dump truck was on top of the car. Four people were transported to Gundersen Health System in La Crosse, where one remains in critical condition.
Susanna Ruth Harbach, 20, of Dakota, Minnesota, sustained life-threatening injuries. Four others sustained non-life-threatening injuries: Francis E. Rychtik, 35, of Arpin, Wisconsin; Richard Alan Shuda, 55, of La Crescent; Zachary Steven Serres, 26, of Brownsville, Minnesota; Zachary Albert Gronseth, 25, of Sargeant, Minnesota.
WisDOT sent a notification that the scene was cleared just after 1 p.m. Thursday and all lanes on I-90 eastbound near mile marker 2 were reopened. Traffic was diverted at Exit 2 eastbound right onto CTH B to STH 53 northbound to I-90 eastbound. WisDOT opened the I-90 westbound lanes at about 9:20 a.m.
There were multiple emergency response teams on site including a volunteer group, the La Crosse County Mass Casualty Team. After arriving on scene Thursday, emergency response crews realized they needed more help. So they called in the help of the La Crosse County Mass Casualty Team.
"It's a group of people who can come to a disaster scene and just provide extra assistance," La Crosse County Emergency Management Coordinator Keith Butler said.
Butler said the team of about 20 volunteers come from all over La Crosse County.
"Farmington, Onalaska, Town of Campbell, Town of Shelby, West Salem," Butler said. Volunteers need to be ready at a moments notice.
"When we page them out for an incident they respond from their work or their home just like any other emergency responder would," Butler said.
The Mass Casualty Team is made up of mostly emergency responders. The team has four trailers spread throughout La Crosse County carrying extra emergency supplies.
"Plus two support trailers with equipment that the team needs, the generators the lights and those kinds of things. So we have a total of six trailers spread out around the county ready at a moments notice," Butler said. "It doesn't really matter what kind of circumstance that's needed. We call them the Mass Casualty Team, but it's really any kind of emergency that just needs extra help, they've got it."
-----------------------
LA CRESCENT, Minn. (WXOW) – One day after 29-year old La Crescent resident Jason Songer died in a car crash on I-90 on Thursday morning, one friend described Songer as a person who made "everyone feel welcome".
High school friend Sam Carlson said Songer was into classic muscle cars and fireworks, and when he heard about Thursday's tragedy, he described it as "gut-wrenching", and was speechless.
Carlson said it is best to remember Songer for the good memories. "When Jason would come into a room, you had no choice but to smile because of his great outlook on life. He was always positive and always in a good mood. Jason was always Jason, and he was very well-liked," Carlson said.
Songer and Carlson both graduated from La Crescent High School in 2003. Carlson said shortly after he heard about Songer, he reached out to friends of Jason's, as Carlson said he felt it was the right thing to make sure everyone was ok.

UPDATE:
LA CROSSE, Wis. (WXOW) The La Crosse County Medical Examiner's office has identified the I-90 crash victim as Jason Songer, 29, of La Crescent.
Thursday morning shortly before 8:00 a.m., the Wisconsin State Patrol said a dump truck driven by Francis Rychtik, 35, of Arpin, crashed into Songer's vehicle. Troopers said Songer's car was stopped in traffic. The State Patrol said the collision caused both Rychtik's and Songer's vehicle to proceed forward striking other vehicles also stopped in traffic. Troopers said both vehicles then traveled into the grassy median and caught fire.
The fire department said four other vehicles were struck during the collision. Two victims were entrapped in separate vehicles and had to be extracted by the fire department. The State Patrol said one of the victims Susanna Harbach, 30, of Dakota, had life-threatening injuries and the other victim Richard Shuda, 55, of La Crescent, had non life threatening injures. Both were transported to a local hospital. The State Patrol said Rychtik had non-life threatening injuries. Two others involved in the crash, Zachary Serres, 26, of Brownsville, and Zachary Gronseth, 35, of Sargeant, MN, had non-life threatening injuries.
I-90 was shut down for several hours as emergency officials investigated the crash and cleared the scene.
The investigation into the crash continues.

UPDATE:
Bond sticks for dump truck driver charged in I90 fatal
A La Crosse County judge today denied a request to reduce the bond for a dump truck driver charged in a fatal crash on Interstate 90.
An attorney representing Francis Rychtik Sr., jailed on $100,000 cash, argued for a lower cash or a signature bond, arguing his client does not pose a threat to the community. If released, Rychtik could also find employment to meet restitution demands.
Prosecutors argued against a bond reduction, telling the judge he picked up charges in two other Wisconsin counties between the crash and his arrest and has a prior drunken driving offense that involved a commercial vehicle.
"He is a danger to the public and a risk to not appear," assistant district attorney Jessica Skemp said.
Prosecutors charged Rychtik, 36, with seven felonies in the July 24 death of Jason Songer, including homicide by intoxicated use of a vehicle, homicide by intoxicated use of a commercial motor vehicle with a prohibited alcohol concentration, homicide by negligent operation of a vehicle and two counts of injury by intoxicated use of a vehicle.
He was hauling sand for B&R Excavating when he rear-ended Songer's 1967 Ford Mustang at 55 mph about 7:50 a.m. just east of Exit 2 in the town of Campbell in the east lanes of the interstate, according to the complaint. Songer, 29, of La Crescent, Minn., and other traffic had stopped in the construction zone to allow cars to merge onto the interstate.
The dump truck ended up atop the Mustang in the median before both vehicles caught fire. The crash caused a chain reaction that involved a SUV, car, van and a semi. A witness said Rychtik did not apply his brakes before the crash, according to the complaint.
Four others were injured, including the driver of a 2004 Ford Taurus, 20-year-old Susanna Harbach of Dakota, Minn., who suffered two broken legs and internal injuries.
Also injured were Richard Shuda, 55, of La Crescent, who was driving a 2011 Dodge Durango and was in pain for a month after the crash; Zachary Serres, 26, of Brownsville, Minn., driving a 2008 Chevrolet Express G2500; and Zachary Gronseth, 25, of Sargeant, Minn., driving the semi.
Rychtik, of Arpin, Wis., refused medical treatment.
He told investigators he "drank alcohol heavily" the night before the crash and registered a 0.04 percent blood-alcohol level about three hours after the collision, according to the complaint.
The charge of homicide by intoxicated use of a commercial motor vehicle with a prohibited alcohol concentration can be levied against drivers with alcohol levels between 0.04 to 0.08 percent.
Rychtik checked Facebook on his cellphone three times east of the Interstate 90 bridge, including twice about 740 feet before the crash site, the complaint states.
Rychtik, who is a trained first responder, was convicted of drunken driving in Pennsylvania in 2012
UPDATE
Shelby Songer has her daddy's eyes. She has his smile and his infectious laugh. While so much of Jason Songer is a part of her, she'll never know her dad.
Two years ago, Songer was driving his 1967 Mustang Fastback when a dump truck driver crashed into his car and killed him. He and his wife Felicia were only married a few months.
"Just shattering. Life shattering. It feels like a piece of you just got ripped out," Felicia Songer said fighting back tears.
The day after the accident, the Songers got an unexpected surprise.
"Felicia came to the house the day after the accident and handed us home pregnancy test and we were just tore up, from happiness and sadness combined," Jeff Songer, Jason's dad said.
Jason never knew, but his daughter, Shelby, was on the way.
"When I got the test I dropped to my knees and I was happy, and scared and sad, all those things combined," Felicia remembered.
Now at 16-months-old, Shelby gives the Songers a little piece of Jason to hold to.
"If we hadn't had Shelby, I don't know what we would have done," Jeff said.
"She brings sunshine and happiness," Kathy Songer, Jason's mom added.
In the midst of unimaginable grief, looking at Shelby the Songers can see their son, a husband and a father.
"Jason would have been such a wonderful father. He loved kids and he would have taught her so much," Kathy said.
Felicia makes sure her daughter knows who her father is. She tells stories and show her pictures. Without being prompted, the toddler walked right up to the photo of her dad, pointed and exclaimed, "da da."
The Songer family is working on establishing the Jason Lee Songer Music Foundation. Jason had a passion for music and now the Songers want to help inspire other kids, particularly ones who don't have the financial means to take music lessons or buy an instrument. They are working on setting up the foundation. If you would like to donate their is a fund set up in Jason's name at Merchants Bank in La Crescent.
---
Heybridge lifesaver gets recognition again - for his football and church work

"Luke Songer with his Jack Petchey award "
A lifesaver has been hailed again - this time for his involvement with a football club and church group.
Luke Songer, 21, was reunited with Ron Collins, whose life he helped save earlier this month when he found him collapsed and unconscious in Holloway Road, Heybridge.
Last Monday Luke, of Crescent Road, was given a Jack Petchey Foundation Achievement Award for his work with Maldon and Tiptree Youth Football Club and Maldon Methodist Church.
Humble Luke, who won £200 for his football club, said he was a "little bit surprised" with all the attention he has received in recent weeks.
---
Harold "Sparky" Songer
January 19, 2014 Sparky's words deserve to be preserved By: KEVIN CULLEN The Commercial-News
Every old newspaper reporter wishes that he had taped certain interviews, and kept the tapes. He'd like to hear them and feel them one more time.
When I read the other day that Harold "Sparky" Songer had died at age 88, I thought of the time that we sat together in his office in Building 7 at Danville Area Community College, and I listened to his war stories.
It was in the early 1980s. Sparky was the DACC veterans' coordinator. I think I was doing a story for Veterans Day. Sparky had fought in the Battle of the Bulge, been captured by the Nazis, and spent time as a prisoner of war. He later joined the Air Force and worked in flight support during the Korean and Vietnam wars.
We must have talked for two hours. I have forgotten most of what he said, but a few things stand out.
I think Sparky was 17 when he entered the Army. He hadn't yet graduated from Veedersburg High School. After a few weeks of training, he found himself in combat in the Battle of the Bulge.
Incredibly, a German bullet hit the spoon that he kept in his coat pocket. It was the only thing that saved him. He still had the spoon.
The captured GIs were ordered to unload their weapons. Sparky said that when he placed his rifle on the pile, he never felt more vulnerable and helpless. His life was no longer his own.
The winter of 1944-45 was bitterly cold. He remembered being crowded into an unheated box car, with Allied planes dropping bombs all around. Again, helpless.
At the POW camp, guards ordered the GIs to use the outhouses. One night, one of the Americans was caught urinating against the side of the building, and the guards nearly beat him to death. That incident, Sparky said, reminded him that he was no longer in friendly little Veedersburg, Ind.
There was little to eat. "I've seen times when I would kill somebody for a potato," he said.
Fast forward approximately 25 years, to the 1960s. Sparky was working as a crew chief, I think, supporting fighter jets and their pilots in Vietnam. Fighter pilots were often handsome, bright, college-educated young bucks — cocky, macho, and deadly. To Sparky, who was then in his 40s, they were more like sons. They adopted him, and even inducted him into a special honorary order with an obscene name that I can't repeat.
Part of Sparky's job was to make sure that the pilots had everything they needed. If, for instance, one of them wanted a certain type of pistol or knife to carry onboard, he found one for him.
Sparky wiped tears away as he talked about the great guys who flew off on bombing runs and never returned. He remembered going through personal effects before they were returned to the grieving families … and removing the condoms.
Sparky Songer was quite a guy. That's one interview that I wish I'd recorded.
Danville native Kevin Cullen is a former Commercial-News reporter.

---
A Danville man who loved his country, and served in World War Two, the Korean Conflict and Vietnam, has died. Harold 'Sparky' Songer died early Sunday at the Veterans Administration Medical Center in Indianapolis.
Songer not only fought for his nation, but also helped lead efforts to build the World War II, Korean-Vietnam, and Women's War Memorials in Danville. And it was Songer and a group of other local Veterans who turned the former Carnegie Library in Downtown Danville into the Vermilion County War Museum. During his years of service Songer was awarded a Purple Heart and Bronze Star.
Services will be at Pape Family Funeral Home, at 10 East Williams Street in Danville at 11 a.m. on Thursday, January 16th, with Reverend Phil Jackson officiating. Visitation will be from 4 - 7 p.m. Wednesday at Pape's. Burial will be in the Danville National Cemetery with military rites by American Legion Post 210.
During World War Two Songer became a Prisoner of War. He was honored by the Illinois General Assembly in 2004 after being chosen to receive the Studs Terkel Humanities Service Award. The award was for Songer's efforts which led to the opening of the Vermilion County War Museum on Veteran's Day in 1999.
It was Danville Mayor Scott Eisenhauer who nominated Songer for the award. In his nomination letter, Mayor Eisenhauer said he wanted to ''recognize Mr. Songer and the other volunteers not only for the tourism impact they have generated for the city by the creation of the museum, but more for providing a place of learning so that all may realize the price paid for our freedom.''
In April of 2011, Songer received national attention when he decided to fly the American Flags upside down in front of the War Museum and at the local war monuments. Songer said at the time that he was not doing it out of disrespect – but rather to alert others that our nation is in distress.
It was in June of 2011 that Songer stepped down as president of the Vermilion County War Museum and its day-to-day director's post. He said he was doing so because of health reasons, and added it was time for somebody else to take over.
Songer had spent not only a big part of his life serving our nation when he died Sunday, but had also donated thousands of hours in bringing some of Danville's war memorials and the Vermilion County War Museum to reality.
---
---
Harold 'Sparky' Songer devotes much of his time as a volunteer at the Vermilion County War Museum in Danville. Songer served during World War II as well as the Korean and Vietnam wars.
DANVILLE – Although a lot of volunteers devote time to the Vermilion County War Museum, the name that has become nearly synonymous with the former Carnegie Library building is Harold "Sparky" Songer.
"I'm at home here," Songer said of the museum as he enjoyed one of many cups of coffee he has every day around the museum's "kitchen table."
"I love this old building. People have been so generous with their donations of items, money and time, to make it just a wonderful place to visit our history."
On Tuesday of last week, suffering continuous pain in his back and right leg, Songer was still at the museum – this day cleaning the restrooms.
"I try to get them mopped and disinfected at least once a week," said the 84-year-old. He is a veteran of the U.S. Army and Air Force who served during World War II, Korea and Vietnam and spent six months as a prisoner of war in Germany.
Sparky, as he is known by one and all, has had two hip replacements, a knee replacement and three back surgeries over the years. He believes the pain doctors attribute to his back comes from being struck so hard across the back by a German guard that it broke the man's baton. That was only one of several near misses with death, he said.
"We were working on the railroad. It was 10 degrees below zero most of the time and we lived in shacks in the woods, slept on bunks on bags of straw that were full of lice. We had to use an open latrine not far away, day or night. We slept and worked in what was left of the clothes we were in when captured. Our water was melted snow. Our meals were one bowl of soup in the evening with maybe a potato and a piece of horse meat."
On a work detail carrying railroad ties to the roadbed, Songer stooped to pull his sock over his toes to prevent a blister and was putting his shoe back on when the blow came.
"I think I blacked out for a second," he remembered. "He was about to get another club to go after me again when the Czech guard stopped him. I just got up as quick as I could and went back to work."
During the Battle of the Bulge, Songer's sergeant was killed. When Songer raised up to check on him, a bullet hit the tip of a soup spoon in Songer's pocket. The bullet dropped into his pocket, sparing his life.
Even before he left the states, his troop train had been in a horrific accident in Kansas.
"I don't know how many guys were killed. There was a lot of equipment burned up, and all our gear, too," he said.
But Songer survived the train wreck, the battle and confinement in Stalag 4B and 4A to come home to Veedersburg, Ind., and later re-enlist, this time in the Air Force. He retired 20 years later. Then he spent 15 years at Danville Area Community College as the veterans' adviser, helping other veterans further their education.
"It's an honor to keep on working with veterans and have a building as beautiful as this to keep their memories alive," Songer said. "I can't wait to get to work in the morning and I'm reluctant to go home at night.
"It seems like there's always someone coming in with something interesting to talk about, who has some story to share, and I like to be here to listen and learn."
---
Sheridan Fire Marshal Brian leaving Sheridan Fire-Rescue after 18 years
October 29, 2013 was the last day on the job for Sheridan Fire Marshal Brian Songer. He is leaving behind an 18-year career with Sheridan-Fire Rescue to accept a position in another sector, and the decision is partially motivated by changes in city policy that omit his input during critical stages of fire prevention.
Songer joined SFR as a level one firefighter in the summer of 1995. He said he knew right away he was interested in playing a bigger role in fire prevention, and had his eye on the job of fire marshal.
"When I got to the fire department, I had an immediate interest in fire prevention and building inspection," he said. "I have a background in commercial and residential construction and had worked in the offshore oil industry, so I've always had an interest in how things are put together."
As a firefighter, Songer attended additional training courses at the National Fire Academy and eventually secured the job of fire marshal six and a half years into his career.
Today, subtle indicators of the fire prevention efforts of SFR abound in Sheridan. To Songer, the best sign of an effective fire prevention program is that nothing appears out of the ordinary.
"As far as fire prevention programs, I'm proud our Main Street is still intact," he said. "You look at towns all across Wyoming and the nation and a lot of their old Main Street buildings are gone and their history is lost."
Songer said he was told his first day on the job the department's biggest fear was a fire either on Main Street or at the Sheridan Inn.
"(Main Street) buildings are right next to each other," he said. "A fire in one building can affect an entire block. We see it all over the country."
He attributes the preservation of Sheridan's key historic buildings to clear communication and cooperation with downtown building owners.
In addition to enjoying the benefits of a robust community outreach and education campaign for fire safety, Songer said one of the programs he's most proud of is the educational campaign the department brings to the public schools.
"We've always had a great core fire prevention program for the community for the very young and the very old," he said.
That said, the veteran firefighter is stepping down a few years earlier than he had originally anticipated amid a deteriorating relationship with leaders within the city of Sheridan.
Over the last several years, city officials have changed the building permit process to effectively omit the fire marshal from the initial phases of building planning and design. The result, Songer said, is a generation of new buildings going up in Sheridan that don't represent the best case scenario for public safety and occasionally waste significant time and resources of both SFR and building owners.
"About two years ago, I started getting a lot of pressure about fire lane requirements, fire hydrant requirements, fire protection system requirements," Songer said. "These were all things that were minimum standards in the International Fire Code."
Songer said his management style was never to go above and beyond the baseline regulations established in the IFC.
It was around that same time frame the city of Sheridan restructured its building permit process. Sheridan Public Works Director Nic Bateson points to a 2009 report from an outside consultant, frequently referred to as the Zucker Report, that recommended the city of Sheridan cross-train city employees to approve building and development projects and reduce the parties involved in the approval process.
"We wanted to create a one-stop shop for developers and builders," Bateson said. "As a result of that, two years ago, we enacted a modification to incorporate fire code review into the building department and engineering division.
"Today, if someone wants a building permit, the contractor or builder has the ability to request a permit and get all of the review on all building disciplines within the department utilizing just a couple of inspectors," Bateson continued. "We streamlined the process."
The Zucker Report from June of 2008 did, in fact, recommended cross-training professionals for residential building projects.
While the fire department was never involved in the review process for single-family homes, the process overhaul that ensued removed the fire marshal from the planning phase of all buildings, public and private.
That, Songer said, is a deviation from common practice around much of the nation.
The only reference to the fire code implementation process that existed at the time of the report affirms its proficiency.
While Bateson expressed confidence the fire code can be correctly applied by an individual trained to national standards, Songer said he's seen multiple situations pop up locally that are often overlooked by someone not intimately familiar with the work of fighting fires. For example, Songer said there is more than one school in Sheridan with smoke detectors too low on the wall, and are thus less likely to provide an early warning as smoke rises to the ceiling. A sprinkler system water control valve is installed outside another building within the city and is susceptible to freezing temperatures, while another lacks sprinklers over heating units. Some buildings lack acceptable emergency exits.
When new buildings initially began being inhabited, SFR encountered situations where crews were not notified when an alarm activated. Conversely, they have also responded to multiple false alarms from the same location due to improper system installation.
Songer said his attempts to correct some of these violations were stifled by the building department. He said there were a few instances where his recommendations were sent to an independent consultant for a second opinion, and when the consultant agreed with Songer's mandate the violation be corrected, some of them were still not addressed.
Songer cited his lack of ability to instigate positive changes for safety as a big driving factor in his decision to leave the department.
"The position has changed tremendously since I first got in," he said. "I have hundreds of hours of training in plan review, detection — and other fire and life safety codes — so I'm able to review detailed plans and make a determination whether those are compliant or not. The current process appears to me to be if the plans come in with an engineer's stamp on them, they're approved without looking at them in detail.
"My real problem is I know what needs to be done to get things right," Songer said.
"I'm just not the right person for the job anymore. There's too many things on the periphery that are preventing the job from getting done and I feel if it was a different person or a different something telling the building department about the violations, it might actually get done. It seems to be more about me than applying the correct code requirements."
Bateson told The Sheridan Press he is unaware of any existing violations of the fire code in Sheridan facilities that have not been addressed. He acknowledged he knew Songer has issued notices of violations to building owners during his department's initial walk-throughs of new buildings, which now occur after the building has received a Certificate of Occupancy.
Songer said several builders have been surprised to learn their building is not in compliance with the International Fire Code because their blueprints had been approved by the city.
Fire Chief Terry Lenhart declined to comment as to whether he was aware of exiting fire code violations that are known, but not corrected, in new buildings.
Songer said there is some language in the city of Sheridan's employee handbook as well as in the fire department's policy that discourages city employees from making negative statements about the city. Section III.D of the Fire Department's policy states all firefighters must "Always conduct themselves to reflect credit on the department and in a manner that creates good order inside the department."
The city's personnel policy directive states,"Employees shall conduct themselves as to maintain public confidence in the city."
Lenhart did say he plans to promote another firefighter, but with a different job description and, likely, a different title.
"We're looking at perhaps changing the position a little bit and making it be more along the lines of being an assistant fire chief with fire code official duties attached," Lenhart said, adding he will have to see how things settle out after Songer's departure.
"Brian has been an outstanding fire marshal and member of the department for 18 years," he said. "He has a lot of information and experience and we're not going to replace that right away."
Lenhart said the promotion will come within the existing ranks of the fire department.
Songer said his initial job hunt began in anticipation for his upcoming retirement, and when he received an attractive offer for a career change, he opted to follow the opportunity.
"I could just go through the motions and just not care, but I can't do that. I'm not built that way," Songer said. "The stress of sitting there and caring but not being able to do anything about it is too much."
Songer will be joining a private employer in Sheridan working in automotive restoration. The career move provides Songer an opportunity to be employed in a field he enjoys as a hobby.
---
Purple Heart award ceremony
Purple Heart award ceremony. Approximately Spring, 1969. Left to right, Joe Lupo, Capt. O'Leary, Ken Quale, Dwight Sommar, kneeling, Marvin Songer. Photo from Marvin Songer.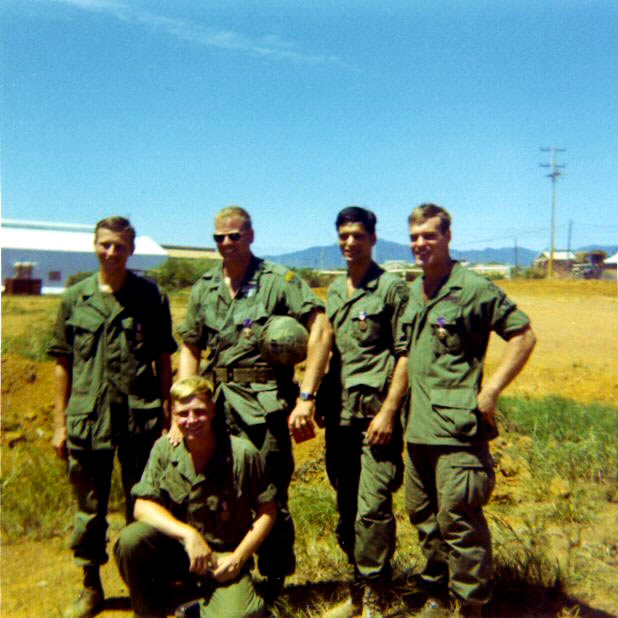 ---
One killed, another injured in midair plane collision
Emergency responders investigate a midair collision of two agriculture planes in southwest Greene County on Wednesday. Authorities said one person was killed and another person was injured when two agricultural airplanes collided.
By Waylon Harris Paxton News Bureau Published: Thursday, May 24, 2012 12:07 PM CDT
One man is dead and another injured after two agricultural planes collided over a field in southwest Greene County.
Emergency crews were called to a rice field off Greene County Road 322 near Arkansas 168 in Shady Grove at about 11:15 a.m. Greene County Sheriff Dan Langston said the two planes crashed midair over the field, and investigators were working Wednesday to determine what caused the collision.
Tony Miles, owner of Miles Flying Service in Bono, was killed in the crash. An employee who answered the phone at the flying service declined comment Wednesday.
Miles was pronounced dead at the scene by Greene County Coroner Richard Pace.
Harvey Songer of Beech Grove-based Kinco Ag Aviation was injured. Songer was transported by helicopter to the Regional Medical Center at Memphis. His condition was not available at press time. But a witness and several at the scene said Songer walked away from the wreckage covered in fuel and dirt before being met by emergency crews.
"The two aircraft come together somehow," Langston said. "One walked away, and the other unfortunately didn't."
Langston said the two planes impacted about 100 yards east of where Miles' aircraft came to rest. Songer's plane was several hundred yards south of the other plane. Langston said the two planes possibly clipped wings in flight.
Investigators from the Federal Aviation Administration were on-scene Wednesday afternoon, and Langston said a Boulder, Colo., crew from the National Transportation Safety Board is expected to investigate the scene today.
Langston said it was unclear Wednesday why the planes collided, but he said the two were spraying fields in the area and ran into each other near the southwest corner of the large field.
The make and models of the two planes weren't available at press time. The planes landed overturned in the field several hundred yards from one another.
Miles had been under scruntity recently for a 2008 aircraft trade with the City of Walnut Ridge. According to Sun records, Miles traded a 1964 Piper multi-engine airplane valued at $25,000 or less to the city for a Bell OH-58A military helicopter, which could be worth more than $100,000. It is alleged that Walnut Ridge Alderman Michael "Buttons" Wallin brockered the deal with Miles, though the trade was made without approval from the full city council. No vote was cast on whether to trade the helicopter for the twin-engine airplane, though state law requires a vote on municipal transactions of $20,000 or more.

Emergency responders investigate a midair collision of two agriculture planes in southwest Greene County on Wednesday. Authorities said one person was killed and another person was injured when two agricultural airplanes collided.
---
Mr. and Mrs. Francis T. Songer
Mr. and Mrs. Francis T. Songer of Decatur, Il. will celebrate their 40th wedding anniversary with a trip to Las Vegas.
Mr. Songer and Carole J. Hudson were married June 24, 1972, in Decatur Il. He is retired from Songer Painting and Decorating. She is retired from Decatur Memorial Hospital's payroll department.
They are the parents and stepparents of Susan Mills and Stanley Songer, both of Mount Zion; Steve Songer of Phoenix, Ariz.; Shelly Songer of Las Vegas, Nev.; Sonja Songer of Decatur Il. They have six grandchildren, five great-grandchildren and three great-great-grandchildren. One son, Kent Toothman, is deceased.
---
AbramSonger - Cutest Kids Contest Winner
More than 18,760 votes were cast for 103 photos in six age categories in The Thomaston Times Cutest Kids Contest. When the smoke cleared, Abram Songer, son of Maranga McCrory and Joseph Songer, was the Overall Winner, collecting a total of 2,584 votes. Abram competed in the Newborns Category. He and his parents win a subscription and E-subscription, valued at $94, to The Thomaston Times.
Thomaston Times is in Thomaston, GA.
---
Jeff Songer
Kansas City Southern has promoted Jeff Songer from assistant vice president of planning and administration for the U.S. engineering department to vice president and chief engineer of KCS' U.S. subsidiary. He succeeds John Jacobsen, who recently retired after 42 years of service.
Songer will report to Executive Vice President of Operations David Ebbrecht and closely coordinate U.S. functions with the leaders of KCS' Mexican subsidiary.
Songer joined the Kansas City Southern Railway Co. in 2005. Prior to that, he served the construction and finance industries in various capacities for 12 years.
"Jeff has significant project management expertise, and has consistently demonstrated effective execution and leadership," said Ebbrecht in a prepared statement.
---
Huntingburg high-speed car chase ends in crash
Jeffrey S. Songer Huntingburg Police arrested a Huntingburg man after he led them on a high-speed car chase through the town on Sunday July 1, 2012.
At around 3:50 a.m., an officer noticed a white passenger vehicle driving north on Main Street without headlights. The vehicle also squealed its tires as it turned on Sixth Street. The office drove behind the Citgo on Sixth Street to intercept the vehicle, but the vehicle was traveling so fast it had already crossed the railroad tracks where they cross Sixth at the intersection of Van Buren St.
The officer activated his emergency lights and the vehicle accelerated to an even higher speed and drove into the oncoming lanes of traffic from Washington Street to Clay St. The vehicle swerved across the road and brushed against the curb in front of Dubois Wood Products.
As the vehicle approached Shelby Street, it braked hard, drove over the curb and continued north on Shelby St. The vehicle was going so fast it caught air as it hit the hills on Shelby Street.
When the vehicle came to 907 Shelby Street, it made a hard right turn and hit the curb, leaving the ground before striking a tree head-on in the front yard.
Before the office could get to the vehicle, the driver, identified as 25-year-old Jeffery S. Songer of Huntingburg, pulled himself from the wrecked vehicle. The officer had to order Songer to the ground at Taser-point before arresting him.
Songer was charged with Resisting Law Enforcement with a Motor Vehicle (D Felony) and OWI (.21 BAC). He also received several citations for traffic violations. He was lodged in the Dubois County Security Center.
The Huntingburg Police Department was assisted by the Dubois County Sheriff's Department.
---
Joseph Songer
A 61-year-old Amherst man is listed in serious condition at MetroHealth Medical Center in Cleveland after he was involved in a motorcycle accident Thursday morning on Route 2.
According to Willoughby Police, Joseph Songer was one of five motorcyclists traveling eastbound on Route 2, when two of his friends out front exited on to Lost Nation Road at 10:39 a.m.
Songer, who was riding a 2011 Harley Davidson, veered to the right in an attempt to exit, lost control, clipped a yellow "crash barrier," then struck the guardrail before coming to rest a short time later.
Traffic was tied up for about an hour as police and rescue crews tended to the injured man and conducted their investigation.
Paramedics ended up transporting Songer to LakeWest Hospital with a leg injury. He was then later taken by emergency helicopter to MetroHealth Medical Center.
Lt. Tom Trem with the Willoughby Police Department's Detective Bureau said the investigation is still ongoing.
---
Steven Cody Songer
A "Celebration of Life" for Steven Cody Songer, 19, who passed away on Monday, June 24, 2013 in Dallas, Texas, will be held at 6 p.m. on Saturday, July 13, 2013 at 1231 W. Hull St., Denison. The celebration will include live music, an open microphone, picture slideshow, and the releasing of balloons. If you would like to bring a balloon with a special message, please feel free to do so.
Steven was born on April 13, 1994 in Greenville, and was diagnosed with Cystic Fibrosis at birth. Steven courageously battled his disease daily. On March 31, 2012 he received the gift of a double lung transplant, which allowed Steven to have another year of life where he could breathe deep and feel as though he was a normal young man doing all the things any typical teenager does.
Steven graduated from Denison High School in May 2012, and due to his lung transplant he was able to walk across the stage with fellow classmates. He then began pursuing a degree of fine arts at Grayson County College and planned to attend UTD. His intellect held no boundaries. As a final act of bravery, Steven wished to have his body donated to science, in hopes to contribute to the education concerning the disease he lost against. He was truly an inspiration to every person that crossed his path.
Steven was preceded in death by Delores and Jimmie Songer (Ma and Pa), and Martha Martin (Nanny). Surviving are honorary parents, Suzanne and Dan Moody (Aunt and Uncle) of Denison; mother and stepfather, Tammy and John Dacus of Atlanta, Texas; father, Cody Songer of Longview; sister, Ashley Songer of Atlanta, Texas; uncle Wayne and aunt Rosario Martin of Sherman; cousins, April, Nicole, Paula, Jeb, Austin, Kyler, Dylan, and Destiny all of Sherman. He is also survived by several great-aunts and uncles, many more cousins, loving teachers, and wonderful adoring friends.
-------------
Steven Songer
This past Friday, Denison teen Steven Songer celebrated his 18th birthday. The celebration was more that just passage into adulthood, but a celebration of life. Just a few weeks ago Songer only had a few months to live.
Born with cystic fibrosis, Songer was in need of a lung transplant. On March 31 he got it and doctors say he's out-pacing the average recovery time for double-lung transplant recipients.
"I feel better than I have in years. I actually feel like I used to in elementary when I would go outside and have fun and run around during recess," Songer said. "It's a big change and I welcome it. I can actually live life more like a normal person."
Songer's condition was so advance at the time of his transplant that his lung function was in the 13-19 percent range and one of his lungs was beginning to collapse on the day of the transplant. "He couldn't even finish his thoughts for me before he ran out of air," said Suzanne Moody, Songer's aunt and legal guardian. Now, doctors say he can expect to reach 80 percent lung function by the end of the year.
"What I think is very nice is having a young kid, 17 years old, on the edge of dying from his underlying disease, cystic fibrosis, and we were able to find an organ for him, and two weeks later he has a new life," said Dr. Fernando Torres, lung transplant program director at UT Southwestern-St. Paul Medical Center in Dallas, where the transplant took place.
Torres explained that patients with cystic fibrosis have an usually thick mucus that affects the lungs. Often unable to cough out the mucus, it eventually cause bacterial growth which leads to chronic phenomena causing damage to the lungs over time.
Torres said life expectancy for lung recipients is usually six years, but with Songer's young age and underlying condition, the transplant could extend his life by 19 years. "When it comes to just normal life I just wish to hang out and enjoy what life I have with my friends and family," Songer said.
Speaking with wisdom beyond his years, Songer said the experience and living with his condition has changed his outlook on life.
"I've learned that there's always a brighter side of things. … You just have to take what you get and roll with life," Songer said. "People should really enjoy what they have and not sweat the hardships."
Songer has 12 weeks of rehabilitation ahead of him, but after that he said he hopes to pursue a career in graphic design and become a graphic novelist on the side. For now though, he's hoping to make it to his graduation from Denison High School. Doctors said as long as his health holds it should be a hope he'll realize.
"I know that God has just placed his hands on us and just blessed us," Moody said. "There's too many things I don't have the verbiage to express how I feel."
-----------------
Steven Songer
A local teen's love for life and fighting spirit is inspiring people all over the state of Texas.
Denison High School senior, Steven Songer was born with Cystic Fibrosis and recently underwent a double lung transplant.
"Steven is a remarkable individual for a 18 year old. He's gone so far with cystic fibrosis, says Dan Moody, Steven's uncle.
Songer has battled with his health his entire life, but after a double lung transplant, he's not ready to give up.
"I think it was a god send. Steven was dying in front of us. They give him six months to a year," says Moody.
Friends, family and the Grayson County community came together Sunday afternoon at Lone Star Lanes in Sherman to help raise money for Steven's recovery. Money that his aunt and uncle, his caregivers, just don't have.
"We just took it as we could take it," says Moody.
And the expenses aren't over yet, Steven has to recover front his transplant away from home.
"We hope to raise enough money to help them with the three months that they have to stay in Dallas," says Leisa Gailey.
And thanks to local businesses donating baskets full of prizes and gift certificates, Sunday's raffle brought in more than $1,600.
"I was totally overwhelmed. I believe God took over here because I never believed it would get so big and its huge," says Bailey.
Steven has touched so many lives and he's not finished yet. His new life with his new lungs is just beginning.
"Really anticipating him walking across the stage in Denison and graduating and going off to college," says Moody.
If you would like to help Steven and his family, donations are being accepted at any American Bank branch. Just make the check payable to Steven Songer medical benefit.
--------
Denison teen hopeful to make graduation after lung transplant
By Jonathan Cannon
Herald Democrat
This past Friday, Denison teen Steven Songer celebrated his 18th birthday. The celebration was more that just passage into adulthood, but a celebration of life. Just a few weeks ago Songer only had a few months to live.
Born with cystic fibrosis, Songer was in need of a lung transplant. On March 31 he got it and doctors say he's out-pacing the average recovery time for double-lung transplant recipients.
"I feel better than I have in years. I actually feel like I used to in elementary when I would go outside and have fun and run around during recess," Songer said. "It's a big change and I welcome it. I can actually live life more like a normal person."
Songer's condition was so advance at the time of his transplant that his lung function was in the 13-19 percent range and one of his lungs was beginning to collapse on the day of the transplant. "He couldn't even finish his thoughts for me before he ran out of air," said Suzanne Moody, Songer's aunt and legal guardian. Now, doctors say he can expect to reach 80 percent lung function by the end of the year.
"What I think is very nice is having a young kid, 17 years old, on the edge of dying from his underlying disease, cystic fibrosis, and we were able to find an organ for him, and two weeks later he has a new life," said Dr. Fernando Torres, lung transplant program director at UT Southwestern-St. Paul Medical Center in Dallas, where the transplant took place.
Torres explained that patients with cystic fibrosis have an usually thick mucus that affects the lungs. Often unable to cough out the mucus, it eventually cause bacterial growth which leads to chronic phenomena causing damage to the lungs over time.
Torres said life expectancy for lung recipients is usually six years, but with Songer's young age and underlying condition, the transplant could extend his life by 19 years.
"When it comes to just normal life I just wish to hang out and enjoy what life I have with my friends and family," Songer said.
Speaking with wisdom beyond his years, Songer said the experience and living with his condition has changed his outlook on life.
"I've learned that there's always a brighter side of things. … You just have to take what you get and roll with life," Songer said. "People should really enjoy what they have and not sweat the hardships."
Songer has 12 weeks of rehabilitation ahead of him, but after that he said he hopes to pursue a career in graphic design and become a graphic novelist on the side. For now though, he's hoping to make it to his graduation from Denison High School. Doctors said as long as his health holds it should be a hope he'll realize.
"I know that God has just placed his hands on us and just blessed us," Moody said. "There's too many things I don't have the verbiage to express how I feel."
There will be a benefit for Songer from noon to 3 p.m. April 22 at Lone Star Lanes in Sherman. For more information contact Leisa Gailey at 903-624-8730.
---
---
A Terre Haute South Vigo High School teacher has received national recognition for his efforts in technology education.

Marquis Songer was one of 34 teachers recognized with the "Teacher Excellence Award" at the 73rd annual International Technology and Engineering Educators Association Conference in Minneapolis.

About 600 technology and engineering educators from across the United States attended the award ceremony last month.

"Marquis is a great teacher," said Doug Dillion, Vigo County schools director of career and technical education. "He is the kind of teacher you want your kid to have in school."

Those who earn the award go through a rigorous evaluation process, he said.

Songer teaches in the advanced manufacturing and S.T.E.M. (science, technology, engineering and math) career pathways. One of his most popular classes is computers in design and production, in which students explore different types of new and emerging technologies.

He began teaching in the Vigo County School Corp. in 2003 and has been at Terre Haute South for all but one year.

Dillion said Songer frequently works at school until 9 p.m. "He would do anything for kids," Dillion said.

He was the original teacher of a summer youth manufacturing camp, which involved work with high-risk students, "Marquis not only volunteered, he did it with enthusiasm," Dillion said.

When new, high-tech equipment becomes available, he wants to learn how to use it so he can offer more opportunities to his students, Dillion said. "He is always willing to go above and beyond."

Songer "thrives on learning anything new and on what he can create with students and accomplish with students," Dillion said. "He believes in challenging every kid to the best of their ability."

Songer, who was nominated by the Engineering/Technology Educators of Indiana, said it's nice to be recognized, but he wants the focus to remain on students. "I'm a person who has never liked attention. I like to do what I do behind the scenes," he said. "I don't think any teacher goes out to win awards."

Songer said he tries to build good rapport with students. "If you build good rapport with kids and get them to buy in to what you'll tell them, then the subject comes easier," he said.

In building that rapport, he's known to "goof around" with his students, he said. "Somehow, I've been able to get across when it's time to have fun, we have fun. When it's time to be serious, we get serious," he said.

He always has music in his class. "I can't stand dead silence. It drives me nuts. I think a lot of kids feel the same," he said.

The main reason students take his class is because "they want to do something or create something," he said. In his class, they learn by doing. "I try to have them up and moving quite a bit," he said.

He's been involved with the Link Crew freshman mentoring program and he has taught adult work force development courses.

Teachers nominated for Teacher Excellence Awards must demonstrate:

• Exemplary teaching characteristics including subject-matter competence, enthusiasm for teaching, sensitivity to student learning needs and good communication skills.

• Sustained professional growth.

• Ability to foster curiosity and generate excitement about learning.

• A conviction that all students should and can learn about technology and engineering and apply its principles in everyday life.

• An experimental and innovative attitude in their approach to teaching.

• Professional involvement and leadership.

Songer is a 2001 graduate of Purdue University and has a bachelors degree in industrial technology.
Sue Loughlin
The Tribune-Star
Terre Haute, IN
---
Larry Songer - MISSING
UPDATE
An 83-year-old man who wandered away from a care facility early Wednesday was found Friday in California, Mesa police said. Mesa police said Larry Songer was in was found at a Greyhound bus station in Chico, Calif. Police said Songer was very confused and believed he was in Washington. Police said Songer was in good condition. Songer went missing sometime after 1:30 a.m. Wednesday from a care facility in east Mesa.
----------------------------
MESA, AZ - Mesa police are looking for the public's help locating a man who walked away from a care facility Thursday.
Police say 83-year-old Larry Songer left the facility near Higley and McKellips roads around 1:30 p.m. on 9/30/10.
Songer has been diagnosed with dementia and does not have his medication with him, according to police.
He was last seen wearing a brown bomber jacket, slacks and should be carrying a burgundy briefcase.
Songer is described as 5 feet 7 inches tall, 150 pounds with gray hair and brown eyes.
He wears sunglasses and should have identification with him.
Songer does not have access to a vehicle and is not familiar with the Mesa area, police said.
Anyone who sees Songer should contact their local police agency.
Larry Songer
---
Marquis Songer received the "High School Teacher Excellence Award"
Two Terre Haute South Vigo High School technology teachers — Marquis Songer and S. Paul Myers — were recently honored during a state conference of career/technical and engineering/technology educators.

Songer received the "High School Teacher Excellence Award" from the Engineering/Technology Educators of Indiana.

He teaches pre-engineering and advanced manufacturing at Terre Haute South. The Teacher Excellence Award is one of the highest honors given to technology and engineering education classroom teachers and is presented in recognition of contributions to the profession and to students, said Doug Dillion, VCSC director of career and technical education.

Songer was honored Saturday at the Indiana Association for Career and Technical Education and Engineering/Technology Educators of Indiana joint state conference in Indianapolis.

In March, Songer will represent Indiana at the International Engineering/Technology Educators convention in Minneapolis, Minn.

Myers received the "Award of Merit" from the Indiana Association for Career and Technical Education. He teaches advanced manufacturing and interdisciplinary cooperative education at South.

Recipients are recognized for their service to or leadership in the association; development of new programs; innovative approaches to education; involvement in legislation related to career and technical education and efforts to promote better public relations.
---
SONGER , MELISSA C.
MELISSA C. SONGER of 313 W SCOTT KIRKSVILLE, MO 63501 Year of Birth: 1983
Melissa Songer, 26, of Kirksville is currently awaiting sentencing after pleading guilty to second-degree statutory rape.
Now she is charged with fraudulently attempting to obtain a controlled substance a felony drug charge (Hydrocodone) after she allegedly attempted to get a prescription renewed in the name of a dead man.
Songer is being held in the Adair County Jail on $10,000 cash only bond.
Her sentencing is set for August 3.
---
Sailor in and out of consciousness after crash - Douglas Michael Hill
SAN DIEGO — The 18-year-old sailor who had his legs amputated after a horrific crash on Interstate 5 has undergone several surgeries and is in critical condition, his family said Wednesday.
Douglas Michael Hill, of Knoxville, Tenn., has been in and out of consciousness, and in addition to the loss of both legs below the knee, he is suffering from a punctured lung, a crushed pelvis and blood on the brain, said Hill's cousin, Jenna Curtis, who lives in Chattanooga.
"It's a miracle he's alive," Curtis said when asked about his prognosis.
Hill and his passenger, Joshua Schwantal Songer, 19, of Clarksville, Texas, were injured Monday about 2 p.m. when the red Ford Mustang they were in crashed into a metal guard rail on southbound I-5 at the transition road to state Route 94, California Highway Patrol Officer Ken Jackman said.
The car was demolished and both men were ejected.
Despite initial statements from officers at the scene that the collision may have involved racing, investigators are treating the accident right now as a single-vehicle crash, Jackman said.
"We are still at the preliminary stages of this investigation," Jackman said. "We have a lot of work to do before we say it was a speed exhibition."
Jackman said that according to witness statements the car was traveling between 60 and 90 mph, but based on the damage to the car and the skid marks, it was most likely exceeding the 65 mph speed limit, Jackman said.
Alcohol was not a factor, Jackman said.
At least one witness told officers that one and possibly two other vehicles were seen speeding in the area at the time. Hill's family members, however, don't believe that he was racing.
"It is alleged that street racing was involved but we would respectfully ask that no one rush to judgment or speculate. He is not associated with any street racing groups and we understand that his cause for sudden speed was simply him trying to 'make the ramp'. He was following two friends in a unfamiliar city," Hill's mother, Cynthia Johnson, said in a written statement.
She and her sister arrived in San Diego on Tuesday, Curtis said.
There is an entry on Hill's Facebook page that talks about racing, but Curtis said it refers to legal drag racing, not illegal street racing.
Hill has not been able to talk about the accident.
He works as a surface sonar technician and has been in San Diego since December, Curtis said. The family declined to say where he is stationed. He joined the Navy right after graduating, which was his goal all through high school, his cousin said.
Hill is expected to remain hospitalized for several months. Songer was released from the hospital Tuesday, Curtis said.
---
Belleville Man Arrested For DUI By Salem Police 4/15/10 @ 12:48:15 pm Salem Police arrested a 24-year-old Belleville man Thursday morning for alleged driving under the influence after receiving reports of a reckless driver on northbound Interstate 57. George Songer was also ticketed for illegal transportation of liquor after his vehicle was stopped on West Main near Westgate Avenue. Songer was taken to the Marion County Jail.
---
Garrett woman arrested for suspected heroin Staff Writer Cumberland Times-News --- OAKLAND - A Garrett County woman was arrested Wednesday during a traffic stop that resulted in discovery of more than two dozen capsules of suspected heroin inside her vehicle, according to the Garrett County Narcotics Task Force. Carla Jo Songer, 40, of Loch Lynn, was charged with possession with intent to distribute heroin, possession of cocaine, possession of a hypodermic needle, possession of drug paraphernalia and failure to drive right of center. In addition, Songer was served with an outstanding arrest warrant charging her with driving with license privileges suspended. Songer remained jailed Thursday on bond of $10,000, pending bail review in district court, according to an officer at the Garrett County Detention Center. Police said the traffic stop was made along Paul Street in Loch Lynn late Wednesday. A K-9 scan of the 2000 Ford Escort led to seizure of 28 capsules of heroin, a hypodermic needle and a crack cocaine pipe allegedly found inside the vehicle. Police also seized the automobile. The narcotics task force was assisted in the stop by Garrett County deputies.
---
Ocie Taylor Songer
Ocie Taylor Songer was in town recently. She told The Corona Historic Preservation Society about her experiences in early Corona. She arrived is 1896, the very begining of this little hamlet. Her father was the offical founder. She lived here until her death in 1971, at age 94. Of course she had some tales to tell. She knew all the early residents as well as many that came later to make their mark on Corona.
Ocie was portrayed by...moi, me and myself. I enjoyed it so much. Ocie left all her scrapbooks, the family bible, family papers and documents to the public library. At the Heritage Room the documents are in a special collection that can be browse through. It was such a pleasure to be able to tell her story and know that everything was as she saw it, because the information all came from her own pen.
When I visit her grave I always tell her that I hope she is pleased with me for keeping her alive in Corona. She did so much in the way of writing Corona's history as it took place. I want to keep it going.
One thing she said in a letter (written in her hand) was that "the older ones are going and the young ones don't care about Corona's story."
I always think that whatever I say about Corona is also the story of every town in America. The faces and names are changed but the storiesare alike.
The news of yesterday is the history of today.
Posted by Diane Wright.
---
Tragedy hits couple with bright future
COPYRIGHT 2008 Worcester Telegram & Gazette
Byline: Dianne Williamson
COLUMN: DIANNE WILLIAMSON
Jennifer Ann Songer literally danced down the aisle at her wedding last year, inspired by the music of Bon Jovi and her love for the man who stood waiting at the altar.
You can take this world away
You're everything I am...
Jen and Travis Songer were rarely apart since meeting seven years ago as students at Clark University. And when Jen learned that she was pregnant six months ago, the young couple was somewhat amazed to realize that they would indeed have everything - love, rewarding careers, supportive families and a son they planned to name Maxwell Evan Songer.
"I envied her," said Jen's father, John Saporita. "She always knew what she wanted. When she was 10 years old she came home from school one day and said she wanted to be a scientist. And she became one."
But fate, with its cruel twists, would have other plans for this remarkable young woman. Tuesday night, she was driving east on Interstate 290 in Auburn with her husband when their Ford Focus went out of control and crashed into woods, trapping them in the car. Jennifer, 29, died at the scene. Travis, also 29, was taken to UMass Memorial Medical Center - University Campus. He suffered a skull fracture, bruised spleen and other injuries, but is expected to survive.
As police continue to investigate the accident, the many people who loved the Songers are devastated that a woman with so much to live for could die so needlessly. Jen was a fourth-year Ph.D. student in the Graduate School of Biomedical Sciences at UMass, where she served as a student mentor. After the accident, UMass colleagues and employees received an e-mail from Anthony Carruthers, dean of the graduate school:
"Jen was one of our most accomplished students," he wrote, noting that she had just learned that a scientific paper she authored would be published in a research journal. "She touched our lives in countless ways and had enriched our school immeasurably ... The faculty, students and staff of the GSBS are heartbroken by her passing."
The Songers lived on Hamilton Street and were returning home from a karate lesson in Webster when the accident occurred. Travis' family said he is heavily medicated but aware that he has lost his wife and unborn son.
"He keeps saying that Jen was his everything," said Travis' sister, Jocelyn Songer. "He loved her so much. They had something incredibly special, and he keeps saying that his son Max was going to be something. They would have made such great parents."
The couple complemented each other perfectly. As a scientist, Jen tended to see things in black and white, her father said. Travis, who also worked at UMass, was the lighter of the two - always joking around. Along with his identical twin brother, Evan, Travis kept Jen "happy and light," Mr. Saporita said.
Which is not to say that Jen was all business. She loved the New England Patriots and adored Christmas. She and Travis loved to hike the White Mountains and Grand Canyon. Travis' sister recalled one year in the White Mountains when they had to hop over rocks to cross a busy stream. Travis simply hoisted Jen on his back and gave her a piggyback ride.
"He'd do anything for her," his sister said.
When Jen became pregnant, she distributed pictures of the ultrasound. Both families were so ecstatic they joked they would steal the baby. She recently told people that she could feel Max kicking, but she wanted no one but close family touching her belly.
"Everyone was so excited for them," said Jocelyn Songer, her voice breaking. "It's amazing how quickly the whole world can change."
A memorial service to celebrate Jen's life will be held Dec. 18 at The French Club in Jewett City, Conn. Yesterday, her father laughed when he recalled the offbeat music that his daughter and Travis chose for their wedding - in addition to Bon Jovi, the newlyweds walked down the aisle to "I'm a Believer" by The Monkees.
Then I saw her face, now I'm a believer
Not a trace of doubt in my mind
I'm in love ...
"Jen and Travis had everything," Mr. Saporita said. "The only thing they didn't have was time."
---
NuBac disc requires a minimally invasive surgery.
We all at some point in time deal with back pain. For people who have Degenerative Disc Disease, the pain in the lower back can cause serious problems.
Four years ago, Stephanie Wysocki of Ontonagon wouldn't have been able to a simple task like cleaning the floor. That's because she suffered from Degenerative Disc Disease.
"Every minute of my day was lived in pain," said Stephanie, "I couldn't hardly do anything except sit on my couch, I couldn't pick up my 2 year old son, I had a hard time even going for walks or sitting for a long time at work."
Stephanie knew she had a major problem. So she came to Orthopaedic Surgery Associates of Marquette. And it's a good thing; turns out she was a prime candidate for a new procedure.
Stephanie was implanted with a small artificial disc in her spine.
"The NuBac is a ball and socket type disc and you put it in the spine through the disc wall," said Doctor Matthew Songer.
Dr. Songer developed the NuBac disc with Pioneer Surgical Technologies in Marquette.
Unlike spine fusion or total disc replacement, two procedures that reduce back pain, the NuBac disc implant allows for movement of the spine through a minimally invasive procedure.
"It relieves pain in 2 ways," said Songer, "you remove the damaged or diseased disc and secondly, you put in an artificial disc that slips into the place of the previous disc and takes and bares the load of the spine and restores the spinal movement and function."
The NuBac disc is currently undergoing a clinical study with 400 patients, and if approved by the FDA, it could be used by doctors across the country by 2013.
As for Stephanie, the NuBac disc appears to be working. She can now exercise and play golf with no back pain at all.
"The NuBac implants have made the greatest difference in my life," said Stephanie, "they've given me my life back."
For more information check out the two links below.
NuBac - Songer Spinal Cable
Jerry Hume
October 08, 2009
---
Thursday October 8, 2009
Mother of three gets prison time for video parlor heist
Woman admitted to robbing place with gun as 2 kids waited in car
by Cheryl Caswell
Daily Mail staff
ST. ALBANS, W.Va. -- A St. Albans mother is heading to prison for five to 18 years for robbing a local gaming parlor, with her two young children waiting in the car for her.
Melissa Ann Spencer, 29, pleaded guilty in August, admitting in court that she left her youngest children, aged 2 and 7, outside of Lewie's, located at Oak Street and MacCorkle Avenue in St. Albans, in July 2008, and then went inside to commit the robbery.
Spencer held a gun to the head of clerk Margaret Songer during the incident and took $1,500 in cash plus the clerk's cell phone and keys. Police later discovered the weapon was a pellet gun.
Assistant Prosecutor Don Morris told Kanawha Circuit Judge James Stucky, "She held the gun to her temple, and it felt cold and hard. She told her, 'Give me the money or I'll blow your f-ing head off.'
"It turned out to be a BB gun," Morris said. "But there's no way she could have known that."
Songer attended Wednesday's sentencing hearing but said she was too emotional to speak. She previously had given the judge a letter saying she remained traumatized by the event.
Morris noted that Spencer had a previous conviction for battery on a police officer from 2005, for which she received probation, and had been arrested for prostitution.
When Spencer's sentence was read, Songer smiled widely and nodded as she watched the crying woman remove a cross from around her neck and be handcuffed by a bailiff.
Before the hearing, Spencer sat outside the courtroom crying and grasping the hands of her mother and a family friend. She entered the hearing in tears, spoke briefly and apologized.
"I was not in the right state of mind at the time," she said. "I apologize to the woman, to my children, to society altogether."
Stucky listened to impassioned pleas from her attorney, John Krivonyak, her mother, Velvet Spencer of Charleston, and friend Ronald Crowder of Dunbar, who all said the young mother was working hard to earn her GED, get a driver's license and stay free of drugs and alcohol.
---
PRINCETON — A Kewanee man has been sentenced to five years in prison after pleading guilty to burglary in Tiskilwa.
Matthew L. Songer, 27, entered his guilty plea to the Class 2 felony on Oct. 1 before Circuit Judge Marc Bernabei. In addition to the prison sentence, Songer was also ordered to pay court costs and restitution in an amount to be determined. The Oct. 1 2009 sentence will run concurrently with an obstructing justice sentence in LaSalle County.
In May 2009, the Bureau County Sheriff's Department received a CrimeStoppers tip stating Songer was selling stolen items at a Henry County sale barn. Upon investigation, the sheriff's department learned Songer was selling appliances and heating and air conditioning units at that sale barn.The items had been taken from the former Tiskilwa High School building, owned by James Shafer of Princeton. A warrant for Songer's arrest was issued June 9, and he was arrested June 19 in LaSalle County.
Songer was represented at his sentencing hearing by LaSalle County public defender Timothy Cappellini. Prosecuting the case was Bureau County State's Attorney Patrick Herrmann.
Songer has a 2003 felony conviction in Putnam County, for which he served three years in prison and was then placed on felony probation for obstructing justice in 2006 in Henry County. He also has misdemeanor convictions for theft and obstructing a peace officer.
Co-defendants Ricky Dennison and John Reining, both of Kewanee, have entered guilty pleas in the Tiskilwa burglary case. The case is still pending for a third defendant, Katie Lucas, also of Kewanee.
---
Learning to fly
Bland County Messenger
NATE HUBBARD/Staff
Sep 22, 2009
This is an inspirational story.
It's about a young man overcoming a medical condition to achieve his dreams.
A tale of an overachiever, a hard worker, a can't say can't type of kid.
We begin on the motocross track.
Jock Songer, a 2005 graduate of Bland High School, is flying across the dirt, zipping over jumps with ease, twisting the wheel of his bike just so with a casual flick of his wrist to add some pizzazz to his aerial acrobatics.
His loving parents, Cindy and Todd Morrison, are looking on from the stands, cheering, urging on their son to victory.
Songer makes the turn, heads directly in front of mom and dad, and, well, we'll let our hero explain what happened next.
"I wrecked in front of my parents," Songer said.
Yes, this is an inspirational story. But there's no Hollywood spin here.
Songer's story doesn't feature a glorious triumph to wrap things up with a neat little bow before the end credits roll.
Yet it's a tale worth telling.
"Like I said, I'm not that good," Songer explained about his moonlighting career as a motocross racer. "But I do it because it makes me happy.
"And it's fun as hell."
Right is Left
Songer, now 22, wasn't half a day old when he first met a surgeon.
According to his mother, Cindy Morrison, Songer was born with transposition of the great vessels, a congenital heart defect where the heart's major blood vessels are reversed.
"His heart is backwards to ours," Morrison said.
In a summary of the condition at WebMD.com, the article states that the vessel reversal generally leads to blood with insufficient oxygen being pumped throughout the body.
At 11-hours- and six-weeks-old, Songer had to have two major heart surgeries to rewire the organ so other parts of his heart would match the abnormal placement of his aorta and pulmonary artery.
"Certain other heart defects must be present to allow a child with transposition of the great vessels to live," the WebMd report states. "Other defects ultimately compensate for the transposition of the great vessels by allowing more oxygen-rich blood to get to the tissues of the body. Surgery is usually necessary for long-term survival."
After his surgeries, Morrison said Songer had to be on medication for years.
Slowly, though, her young son's heart began to strength and Morrison's worries, while never completely dissipating, began to slip to the back of her mind.
That's when her husband came to her with an idea.
Songer was 10 and although he was thriving in everyday life, the danger of getting whacked in the chest meant he couldn't participate in sports like football or baseball.
He loved watching motocross racing on TV, though, and Todd Morrison thought a dirt bike might be the perfect antidote for Songer's pent-up competitive drive.
"He thought it would be something good for him to do," Cindy explained.
Cindy, on the other hand, well, Cindy had a different take on the idea of her fragile little boy tearing across the rough terrain on their Mechanicsburg property.
"I really wasn't happy, wasn't happy at all," Cindy recalled, adding that the initial purchase of the bike was "totally against my will."
Songer, though, loved his new Yamaha Big Wheel 80.
And again, slowly, mom got more and more comfortable as she couldn't ignore the grin on her son's face when he rode – as long as he in turn didn't ignore his safety gear, which he never did.
Then Songer announced that he wanted to race.
Rubbin's Racin'
The scrums that take place on a motocross track aren't designed for the faint of heart.
On Songer's circuit, big races can feature fields of up to 40 riders.
In tight quarters, on a slippery dirt surface, with jumps that can easily reach 60, even 70 feet, contact and crashes are unavoidable.
"If you ride long enough, you're going to get scraped up, beat up," Songer said.
After attending the annual Pro Sport MX in Wytheville for the first time as a spectator before his junior year of high school, Songer said he came to a realization: hey, I could do that.
So he got to work.
On his family's Mechanicsburg property, Songer turned the yard into a homemade practice track complete with jumps and turns.
While Songer said he's never broken any bones motocross racing, his mom's confidence wasn't helped by a nasty spill he took at home right around the time he got serious about racing.
As Songer recalled, he was getting ready to soar over a jump on his practice track when his front wheel got caught in an unseen rut. A moment later, he was soaring over the handlebars and a moment after that he was splattered on the ground, unconscious.
As always, though, Songer had his helmet on and a few seconds after the crash he was back aware of the world with Todd by his side.
With no long-term ill effects from the crash, Songer was soon back on his bike.
At 17, just before his senior year, Songer competed in the Wytheville race for his first taste of competition.
How'd he do?
"I finished," Songer said. "It wasn't good. … I don't remember how good – or how bad, really."
What it definitely wasn't, though, was boring.
And that was enough for Songer.
"I guess I usually say I'm an extremist," he said, going on to also call himself an adrenaline junkie. "There's nothing like that sweet, self-made drug running through your veins."
Gearing Up
As his late teens have become his early twenties, Songer's passion for racing hasn't waned a bit.
Despite his claims that he isn't much of a racer, Songer does more than just finish races.
He claimed a silver medal at a mini Olympics event last October and has steered his No. 383 2006 Yamaha Y2 250 F to numerous other noteworthy placements.
More importantly, he's spread his love for motocross to his stepbrother, Jake Morrison, a student at George Wythe High School, who has joined Songer as a regular racer.
And even mom has become a faithful spectator at the track.
Cindy said she'll often find that her shouts of "no, no, no" become "go, go, go" as she cheers in spite of herself.
"It's just awesome to see him having such a good time," she said, adding that with Jake's involvement, motocross races have turned into family events.
Although she can now usually enjoy seeing Songer motor around the track, Cindy added that motocross remains a difficult sport for a mother to watch.
"Sometime I have my eyes closed," she admitted. "I try not to watch the jumps a whole lot."
In addition to his helmet, Songer also wears a chest protector and a neck brace.
And while he acknowledged that there are risks to being a motocross racer – especially a racer who has had open heart surgery – Songer said he makes sure to mitigate the danger.
"I'm safe," he said. "I know my limits."
In addition to riding in the Wytheville race each July, Songer said he tries to cobble together enough cash – and squeeze in the time – to compete in four or five events each year in Virginia and surrounding states.
Busy Guy
With Songer, there's no woe is me about his heart condition – he doesn't have time for whining or self-pity.
After graduating from Bland High School, he began attending Wytheville Community College in 2007.
Taking a full course load, Songer also juggled a part-time job.
Er, make that four part-time occupations.
Along with doing landscaping work and serving as a file clerk for Todd's insurance business, Songer also squeezed in time to work at Lowe's and Mark IV Honda.
"I've never seen anyone with the drive he has," Cindy said. "He just is a fine example that if you have the will and you really want to accomplish something in your life, you can."
Tam Topham, owner of Mark IV, confirmed that there's something special about Songer, calling him "one of the hardest working young kids that I've had around."
"He doesn't mind going the extra mile," Topham added.
Songer graduated from WCC in May with a degree in criminal justice and is now going through the training academy to become a correctional officer at the New River Valley Regional Jail in Dublin.
He said law enforcement is a good fit for his thrill-seeking personality.
"Give me the chance and I'll do it," he said.
While motocross gives him his coveted adrenaline rush, Songer said the sport has also taught him mental toughness and discipline.
Even as he transitions into a full-time career in law enforcement, Songer said racing isn't something he ever plans to give up.
"It's going to be a part of my life for a long time, as long as I'm physically able," he said.
Simply put, his heart has no choice but to keep up – Songer isn't slowing down.
Cindy said she suspects that there's something in her son's chest more notable than flipped vessels.
"He's got a heart," she said, "of gold."
Nate Hubbard can be reached at 1-800-655-1406 or nhubbard@wythenews.com
---
Is the driver always liable?
A woman from Winterset, Iowa was critically injured sometime around the date September 7, 2009 while riding on a motorcycle. She and another passenger, it's unclear who was driving it, went into a Madison County ditch after losing control. The news report states the bike flipped over. The two riders were 27 year old Joshua Williams and 24-year-old Dezerae Songer. A bike flipping can't be much fun; everyone is going flying in whatever direction physics takes them.
There is nothing reported that gives any indication whether or not they were wearing helmets or other protective clothing or equipment. Of course we don't know who the driver was, but many will ask if the driver is always liable for the passenger's injuries and the answer is no. Liability depends on doing something that isn't considered reasonable or a violation of the rules-of-the-road. The reasonable man standard can be any number of things including not paying enough attention, fooling around, not watching out ahead, driving recklessly or drinking and driving. Of course all roads have speed limits and lanes to be obeyed. And that's where the rules-of-the-road comes into play. Not obeying the rules, Iowa's driving rules, is a basis for negligence.
With that said it's as important to follow the laws of physics as it is to follow the rules-of-the-road.
---
Fort Dodge, Iowa man stabbed in fight after party
September 20, 2009
A 19-year-old Fort Dodge man was stabbed around 2 a.m. today when he was leaving a party in the 1400 block of Enos Avenue near Keosauqua Way in Des Moines.
Police officers were already at Mercy Medical Center when Devon Myer came to the emergency room claiming he had been stabbed.
Myer told police that Richard Songer, 20, was mad because Myer had been talking to his girlfriend all evening. According to the police report, Songer's girlfriend gave Myer a bottle of Songer's cologne because Songer doesn't wear it.
When Myer was leaving Songer's party, Songer allegedly yelled at him and asked where the cologne was. Songer reportedly shoved Myer against a car and felt the cologne in his pocket. Although Myer told police that he told Songer he could have the cologne back, Songer allegedly swung at Myer, and Myer said he punched back.
According to a police report, several more punches were thrown before Songer allegedly produced a knife and stabbed Myer, leaving a 1-inch long, 2-inch deep stab wound in the left collarbone area.
Myer is in good condition at Mercy.
Police charged Songer with assault with willful injury and took him to Polk County Jail on a $10,000 bond.